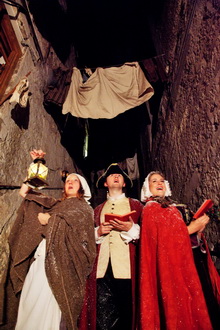 It's hard to imagine Edinburgh without its Christmas lights and festive markets at this time of year, but until quite recently Christmas was just an ordinary working day for Scots – Hogmanay quickly became the time to celebrate!
Edinburgh's famous underground attraction, The Real Mary King's Close, is revealing some of the city's hidden history surrounding Christmas and New Year in new extended festive tours on Friday, Saturday and Sunday evenings throughout December.
Edinburgh is known as the world's original New Year Party, hosting one of the biggest street party celebrations in the world with over 80,000 revellers, but the popularity of Hogmanay stems largely from the outlawing of Christmas in 1575.  People were banned from celebrating Christmas, so many traditions were moved to the New Year.   Modest New Year celebrations soon became an explosive street festival and people were so enthusiastic about welcoming in the New Year that the events continued into 2 January, which is the reason this day is still a holiday in Edinburgh today.
Nigel Hosier, general manager of The Real Mary King's Close attraction, commented: "It's hard to believe that Christmas only became a national holiday in Scotland in 1958, but it explains why Hogmanay is so important in Edinburgh.  Our new tours give visitors a taste of how Hogmanay and the 'Daft Days' of old were celebrated on the Close when Christmas was virtually banned in Scotland for 400 years!  Mulled wine and mince pies served during the tour will help make sure we all celebrate this year."
Christmas Tours Dates & Times
Friday 2nd December – Tour @ 7pm/ 7.40pm/8.20pm/9pm
Saturday 3rd December -Tour @ 7pm/ 7.40pm/8.20pm/9pm
Sunday 4th December – Tour @ 3pm/3.40pm/4.20pm/5pm
Friday 9th December – Tour @ 7pm/ 7.40pm/8.20pm/9pm
Saturday 10th December -Tour @ 7pm/ 7.40pm/8.20pm/9pm
Sunday 11th December – Tour @ 3pm/3.40pm/4.20pm/5pm
Friday 16th December – Tour @7pm/ 7.40pm/8.20pm/9pm
Saturday 17th December -Tour @7pm/ 7.40pm/8.20pm/9pm
Sunday 18th December  – Tour @ 3pm/3.40pm/4.20pm/5pm
To find out more call 0845 070 6244 or book online now