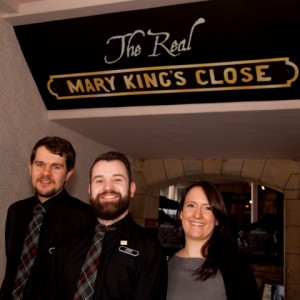 Whilst one of Edinburgh's best loved visitor attractions lies concealed deep beneath the Royal Mile, there is nothing hidden about the attraction's investment in their staff as Leanne Foxwell, Rob Atkinson and Jamie Balfour become the first staff members to complete a Modern Apprenticeship in Cultural & Heritage Venue Operations.
The apprenticeship, delivered by Rewards Training, lead to both Rob and Leanne being promoted upon completion. Apprentices are able to learn as they earn across all aspects of the business from event management to balancing the budgets, marking The Real Mary King's Close's continued investment in its employees to ensure a quality five star visitor experience.
Following the success of the first intake of apprentices, the attraction is now investing in a further six staff from all areas of the business including tour guiding, sales and retail, giving employees exposure to the intricacies of running a successful visitor attraction that will see them gain valuable qualifications whilst on the job.
Craig Miller, General Manager of The Real Mary King's Close comments: 'We are committed to developing our staff and the modern apprenticeship scheme is a great way for our employees to increase their skills at the same time as earning. As a result, staff feel more confident and benefit from skills that will enhance their career prospects and as a business we gain from a more productive workforce whose capabilities match our own business growth needs.'
Leanne Foxwell, Duty Manager and Modern Apprentice at The Real Mary King's Close said: 'The modern apprenticeship scheme has allowed me to gain invaluable work based experience that has really helped me to progress in my job and my career so far. Not only did the course content really expand my skills but my mentor, Louise at Rewards Training, was there every step of the way to ensure that we were supported throughout the process.'
Skills Development Scotland Chief Executive, Damien Yeates, said: 'The investment in staff through Modern Apprentices at Mary King's Close is a fantastic example of the exciting opportunities that work-based learning can offer. Leanne, Rob and Jamie have gained nationally recognised qualifications that will benefit them throughout their careers.'
The latest apprentices at The Real Mary King's Close Scotland will be amongst the 25,000 employees per year who have access to Modern Apprenticeship place. As well as tourism, Modern Apprentices are employed across Scotland spanning more than 80 sectors including engineering, construction, health and social care, ICT, and food and drink.
The announcement comes during Scottish Apprenticeship Week 2014 which focused on the benefits apprenticeships bring to businesses, individuals and the Scottish economy.