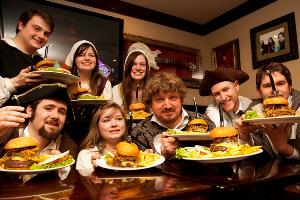 In under just eight minutes, The Real Mary King's Close's foul clenger polished off a whopping 10oz patty burger and all the trimmings created exclusively by Hard Rock Cafe for a burger challenge that raised £450 in aid of Action for Children.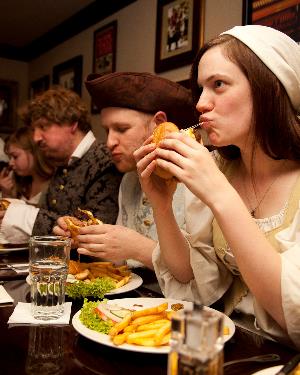 The sponsored challenge, which took place last week, marks The Real Mary King's Close's latest fundraising initiative for the children's charity which so far this year has seen staff abseil down the Forth Rail Bridge and brave mud, fire, ice-water and 10,000 volts of electricity, bringing the total fundraising so far to £2,500.
The foul clenger, a 17th century poet and the daughter of Mary King herself were amongst eight costumed tour guides battling it out to be the first to pack away the 10oz patty complete with fries and salad with all proceeds helping to support some of the UK's most vulnerable and neglected children and young people.
The patty named 'Mary's Close…To Bursting Burger' was crafted after the chef took inspiration from his visit to Edinburgh's top underground attraction and included black spices, 10oz of black pudding and heavy metal sauce to represent the darker side to Edinburgh's history.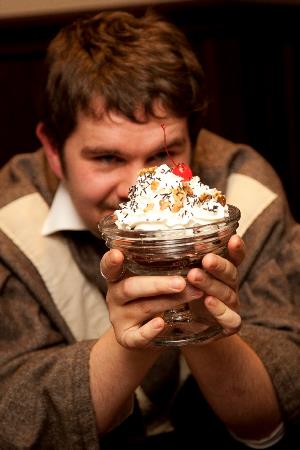 Craig Miller, General Manager comments: 'Each year we are committed to supporting a charity and this year, staff chose Action for Children. We are really thrilled to have Hard Rock Cafe, a world famous brand getting behind our fundraising efforts, helping us to further raise the profile of this worthwhile cause.
'This is probably the first time in history that a 17th century foul clenger and maid have had the chance to eat anything as lavish as a 10oz burger, so not surprisingly they stepped up to the challenge to take part in this battle of the burgers!'
Lesley Ross, Hard Rock Cafe Edinburgh comments: 'We were very excited to be working with The Real Mary King's Close as they are a great company. Hard Rock as a brand is very involved with philanthropic causes so we were glad to be part of a fundraising activity for a worthwhile cause.'
Grant McFarlane, fundraising manager at Action for Children Scotland, said 'We are really pleased that The Real Mary King's Close has chosen Action for Children Scotland as its charity of the year. The team has taken on some very innovative and unusual challenges as they strive to raise vital funds for the country's most vulnerable children, young people and families. We are really grateful for their dedication and are pleased they are having so much fun fundraising for us.'