Lantern Led Tours this Halloween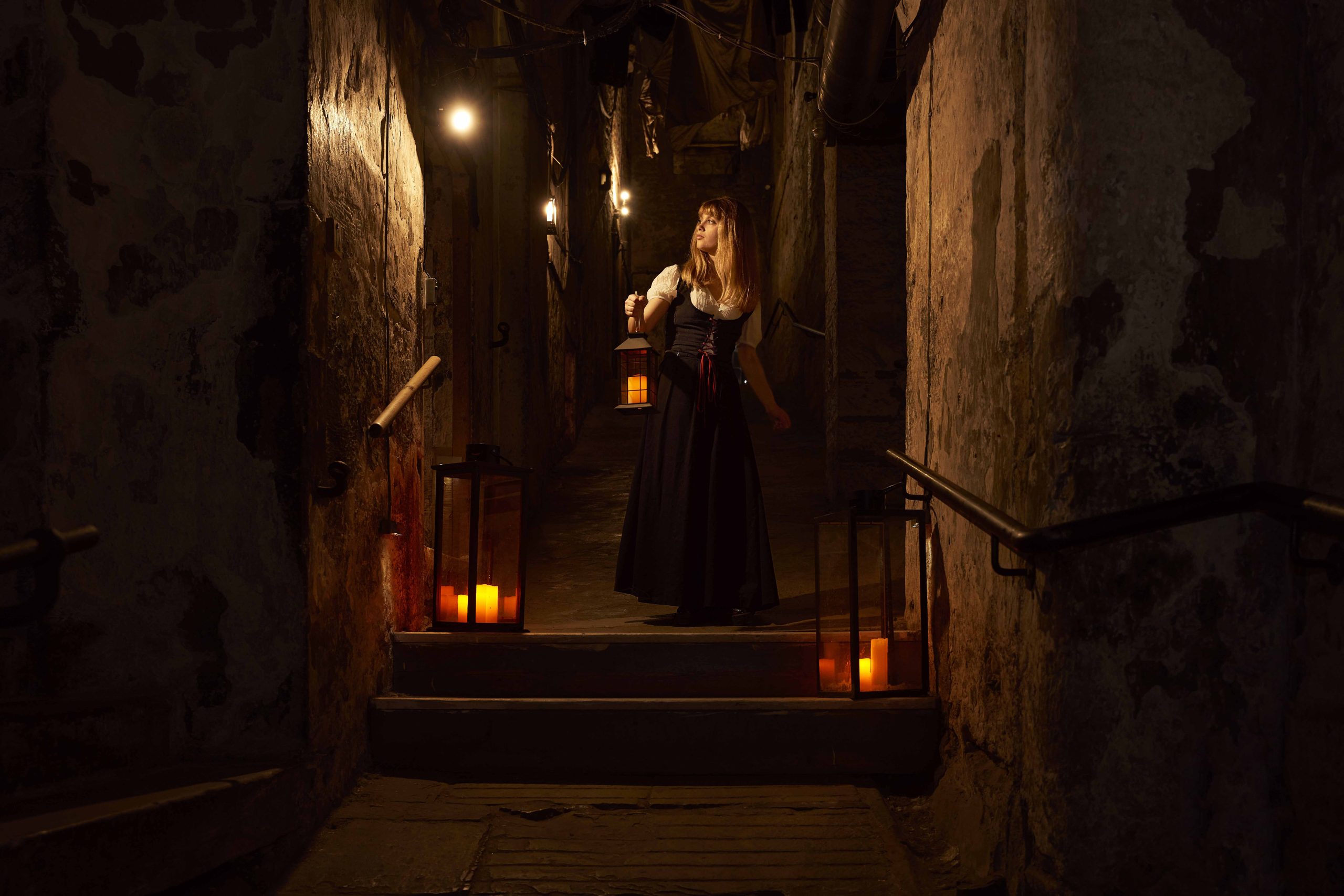 Lights Out for Lantern Led Tours this Halloween at The Real Mary King's Close
Step beneath the Royal Mile and shine a light onto Edinburgh's past with our 𝐚𝐭𝐦𝐨𝐬𝐩𝐡𝐞𝐫𝐢𝐜 𝐥𝐚𝐧𝐭𝐞𝐫𝐧-𝐥𝐞𝐝 𝐭𝐨𝐮𝐫𝐬 running this Halloween season. Descend down the historic steps with one of The Close's former residents and into complete darkness – the only light source is the flicker of your lanterns.
Discover the stories of the people who roamed the streets of Edinburgh years ago, learning all about their 𝐥𝐢𝐯𝐞𝐬 𝐚𝐧𝐝 𝐝𝐞𝐚𝐭𝐡𝐬. You'll also meet an insidious character that used to strike terror into people's hearts at their very sight…
𝐖𝐡𝐨 𝐰𝐢𝐥𝐥 𝐲𝐨𝐮 𝐞𝐧𝐜𝐨𝐮𝐧𝐭𝐞𝐫? 𝐖𝐡𝐚𝐭 𝐰𝐢𝐥𝐥 𝐲𝐨𝐮 𝐝𝐢𝐬𝐜𝐨𝐯𝐞𝐫 𝐢𝐧 𝐭𝐡𝐞 𝐬𝐡𝐚𝐝𝐨𝐰𝐬? 𝐉𝐨𝐢𝐧 𝐮𝐬 𝐭𝐡𝐢𝐬 𝐇𝐚𝐥𝐥𝐨𝐰𝐞𝐞𝐧!
On Halloween weekend, upgrade your tour with a  delicious dinner at Amber Restaurant
Why not finish your evening off at the Amber Restaurant at the very top of the Old Town. Discover tales of Scotland's other spirit, Scotch whisky, with haunting stories from our historic distilleries. Your menu will be accompanied by some stories to leaf through and peruse over dinner.
These spirited tales take you around Scotland and into the history of some of our best-known distilleries with some chilling, mysterious and unexpected anecdotes. Your Taste of Scotland menu featuring Autumnal produce consists of a 'trio' starter, a 'trio' main and dessert is matched with a dram of Scotch whisky.
What's included on a Lantern Led Tour?
– Evening 1h experience with character tour guide + special guests.
– One lantern provided for each household to take around.
– Optional extra of a 3-course dinner at Amber Restaurant with The Scotch Whisky Experience £40 per adult, children's menu available on the night. Only available from Friday 28th to Monday 31st October.
When: Every Friday, Saturday and Sunday from 15th October to 30th October, and Monday 31st October.
Time: Tours starting every 15 min from 19.00 until 20.45
Duration: 1h
Price: From £23/adult and £15.95/child