Condemned – Halloween Tours
13.10.2017—21.10.2017 | 10.15pm
Join us this Halloween for the return of our late night 1 hour tour experience, Condemned.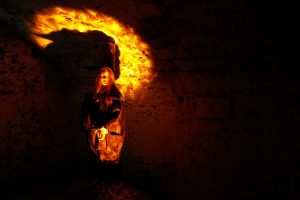 Travel back to a time when fear and suspicion lurked around every corner, and witch trials were a regular occurrence. Hear how the inhabitants of Mary King's Close and the surrounding streets were implicated and the fate that befell them.
Condemned offers a unique insight into Edinburgh's fascinating history with the occult, telling the stories of its infamous accomplices and most ardent opponents. Join a character guide on a journey, documenting how and why attitudes changed over time.
With themes of witchcraft being explored more and more in popular culture such as Outlander, Condemned will challenge perceptions and go beyond what we believe to be true.
This Halloween, who will you believe and who will you condemn?
Limited spaces available.
Recommended for ages 16+. No latecomers admitted. Those under the influence of alcohol may not be permitted entry.
Book your tour below…
*Friday 13th October SOLD OUT*
*Saturday 14th October SOLD OUT*
*Thursday 19th October SOLD OUT*
*Friday 20th October SOLD OUT*
*Saturday 21st October SOLD OUT*
*Thursday 26th October NEW DATE*
Admission £16.95