A Spirited Evening with The Scotch Whisky Experience and The Real Mary King's Close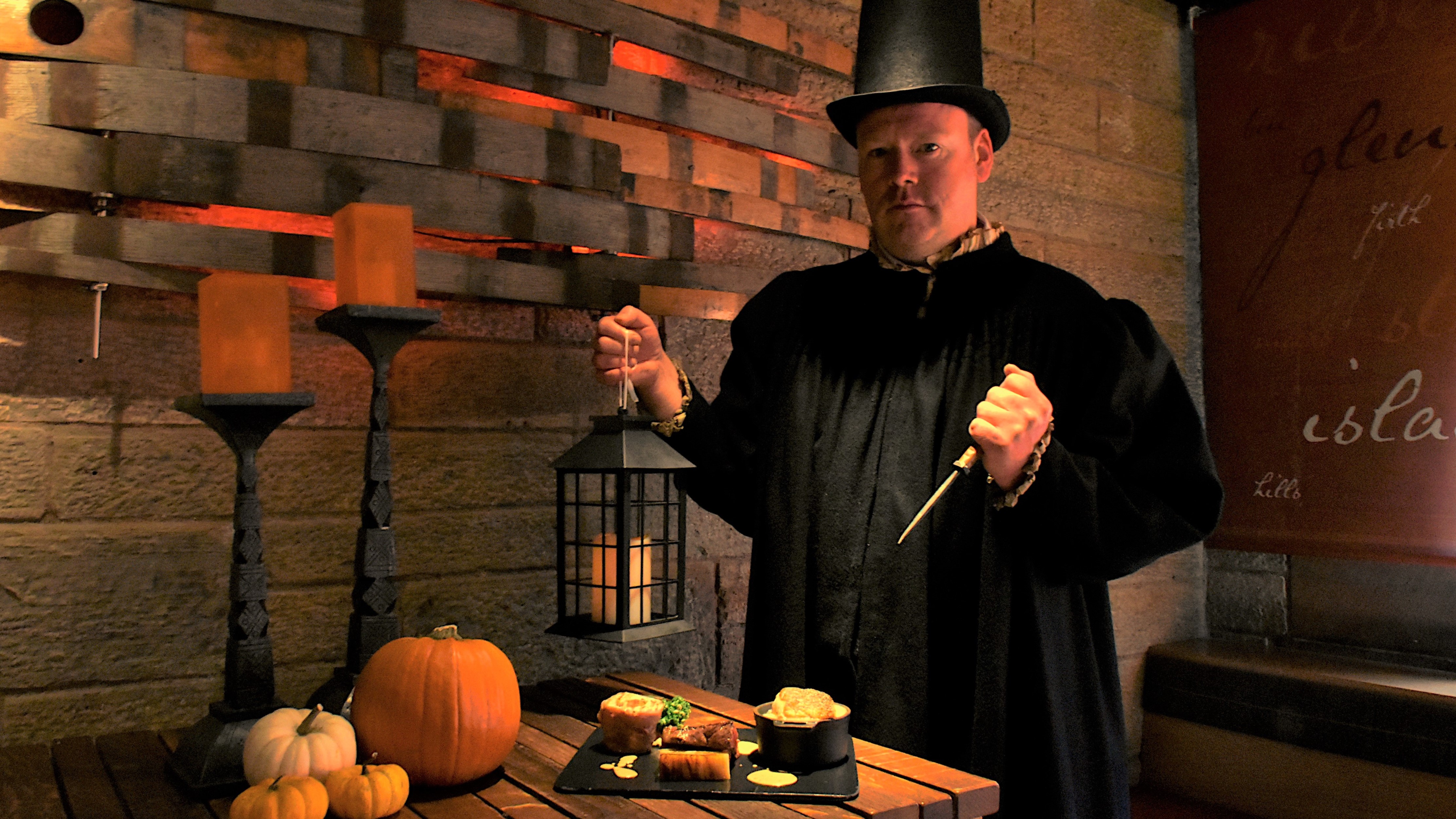 Join Us For A Spirited Evening This Halloween
As the days get shorter and the chilly nights of Autumn descend upon us, Edinburgh's Old Town begins to wrap itself in an eerie cloak of mystery.  Dimly-lit closes and ancient buildings are the perfect backdrop for ornate stories of spirits and spectral beings.
This Halloween, we are honouring Edinburgh's well-sought after spirits – may they be otherworldly or 'our-worldly'.  From 26th October to 1st November, we are partnering with The Scotch Whisky Experience's Amber Restaurant for A Spirited Evening.
Commence your evening at the Amber Restaurant at the very top of the Old Town. Discover the fascinating tales of Scotland's other spirit, Scotch whisky, while you enjoy your locally-sourced 3-course dinner in the surroundings of the atmospheric restaurant. As you savour seasonal Scottish flavours, leaf through, and peruse over haunting stories from celebrated distilleries. These spirited tales take you around Scotland and into the history of some of the best-known distilleries with some chilling, mysterious, and unexpected anecdotes. Accompany your meal with exclusive autumnal cocktails such as a Plum Old Fashioned or a spooky Toffee Apple Cocktail. A specially selected dram or liqueur will draw your feast to a close with its own unearthly tale.
Then head down the historic cobblestones to the heart of the Royal Mile, The Real Mary King's Close, for a 1-hour lantern-led tour of Edinburgh's only preserved 17th-century street. Said to be one of the most haunted sites in Scotland if not the world, The Real Mary King's Close is steeped in mystery and legend. Discover the stories of the people who roamed the streets of Edinburgh years ago and meet the witch pricker, a dubious character which used to strike terror into people's hearts at their very sight.
A truly spirited experience for a Halloween to remember.
What is included in A Spirited Evening?
3-course seasonal dinner at The Scotch Whisky Experience's Amber Restaurant. View sample menu here.
An accompanying dram of whisky or liqueur after your meal
1h lantern-led tour of The Real Mary King's Close with a character tour guide
A very special encounter with the witch pricker during your tour
When: 30th October, 31st October, 1st November
Start time:  18.00 or 18.30 (Duration: 3h)
Price: £59 per person (includes dinner & tour)
Prefer dinner before your tour? 
Or if you would prefer to start your evening with the lantern-led tour first, followed by dinner at Amber, Restaurant, select your 3-course dinner as an add-on when you book your lantern-led tour. Available 27th October to 1st November, 18.00, 18.15 and 18.30. Book here.
Please note that 'A Spirited Evening' is an adult-only experience with the minimum age for admission being 18 years. Max 4 people from 2 households per booking based on current guidelines. Booking will be subject to our standard term & conditions. 
Book Now