Mary King's Close…As Seen On TV
We recently welcomed the Vagabrothers who have been video blogging their way around the world as part of a global campaign. Check out their Edinburgh blog here.
https://youtube.com/watch?v=es0aPZNLC78
During August 2013, The Real Mary King's Close welcomed Pleasance TV in partnership with Theatre Re who chose to shoot their Festival Fringe promotional video using the atmospheric backdrop of Mary King's Close.
https://youtube.com/watch?v=t7qjXhr4HXE
In March 2009, we were delighted to welcome Louis Walsh and Irish 'boyband' Boyzone to The Real Mary King's Close for a evening of ghost hunting with Yvette Fielding and her experienced investigative team. ITV2's celebrity paranormal programme spent the night in some of Edinburgh's most notoriously haunted locations and obviously a visit to Mary King's Close was top of their list!  The programme premiered on Saturday August 29th 2009 – look out for repeats in your area – check local press for details!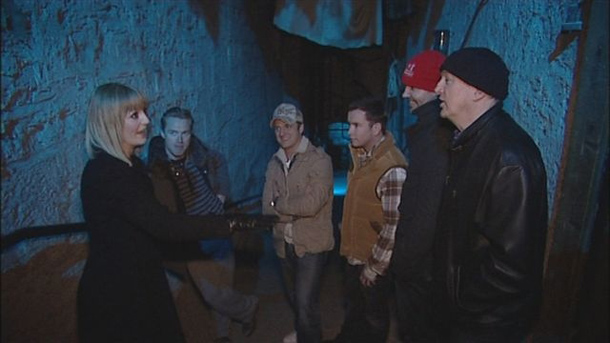 Another claim to fame for the Close – the mysterious site was the setting for a famous Inspector Rebus novel – Mortal Causes.  Ian Rankin was so inspired by the dark and intriguing atmosphere, he chose Mary King's Close for the scene of a brutal and chilling murder, ready for the famous 'Caley 80' drinking detective to investigate!
This fascinating site has appeared on many TV shows around the world including –
Billy Connolly's World Tour of Scotland (BBC) – 1994
Most Haunted (Living TV) – 2004 and 2006-
Blue Peter (BBC1) – 2007
Cities of the Underworld (History Channel) – 2007
Ian Rankin's Hidden Edinburgh (BBC4) – 2007
Mystery Hunters (Discovery Kids) – 2007
How Edinburgh Was Built (ITV) – 2008
Ghost Hunters International (Sci-Fi Channel) – 2008
The Five Thirty Show (STV) 2008
Relentless (Channel 4/T4) – 2008
Ghosthunting with Louis Walsh and Boyzone (ITV2) – 2009
Cauet fait le tour … (TV6) – 2009
Into the Night with Alan Cumming and Ian Rankin (ARTE) – 2009
In Search of Burke and Hare (STV/History Channel) – 2010
De A Nis? (BBC Alba) – 2010
Four In A Bed (Channel 4)
Following her first visit in 2004 with Living's 'Most Haunted', presenter Yvette Fielding said "Mary King's Close has to be one of the most terrifying places that I have investigated. It is pitch black and has many intertwining tunnels and rooms. Being alone in Mary King's Close at 4:00am in the morning is not something I shall forget … stones were thrown at us and ghostly footsteps were heard…"